More details for each step are in the Reference Manual, page numbers are referenced below.
A mix-minus allows you to create an alternate audio mix where one or more sources are removed from the main mix.
This is done by setting a video output's audio bus assignment to AUX and then muting the AUX Send for any audio channel you want to remove from the AUX audio mix.
In this example, we set up the USB Streaming Output for a mix-minus.
First, go to Menu > Audio Output > AUX Bus, and change the Level to 0.0dB.
Note: If you push in the Value knob while turning it, the value will change faster.
(Reference Manual, page 27)
​
Next, press the Menu button once to go back a page and enter the Bus Select menu, and change USB Stream to AUX.
(Reference Manual, page 27)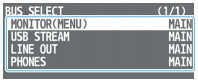 ​
Finally, go the Menu > Audio Input and set the AUX Send level to -INF if you want to remove it from the AUX audio mix or 0.0dB if you want it to add it to the AUX audio mix.
(Reference Manual, page 27)
The AUX Send value is post-fader, which means that the faders you use to adjust the Main audio mix will also affect the AUX audio mix.
So, if you turn Mic 1 all the way down and mute it, it will be muted in the AUX Mix as well.
Note: The AUX Send value therefore either lowers, passes-through, or raises the level it receives from the audio channel's fader. In most cases, you will set the AUX Send value to either -INF or 0.0dB.​