This article contains links and information to help you get started with the V-1HD.
For additional support, please submit a ticket at roland.com/backstage
Quickstart Topics:
Click on a topic to jump to that section
---
PRODUCT VIDEOS
---
---
INSTRUCTION MANUALS
---
Inside the box is a copy of the Owner's Manual, it contains detailed walkthroughs for every feature.
Additionally, there is a separate RCS Manual for the free RCS control software, Remote Control Guide for MIDI control reference, and a Remote Manual for the free iPad Remote app.
---
FIRMWARE UPDATES
---
Please check that the firmware on your V-1HD is version 2.05:
If it is an earlier version, use this update guide:
When you update the firmware, also check that you have the latest version of the RCS software for Windows/MacOS and Remote app for iPad.
---
CHOOSING CAMERAS
---
These guides help you choose the best type of camera for your workflow, set it up to output a compatible video resolution, and also output video without menu overlays or screen information.
---
VIDEO RESOLUTIONS
---
If the FORMAT switch on the back next to the power button is:
1080p, Inputs can be 1080i or 1080p, and Outputs are 1080p
1080i, Inputs can be 1080i or 1080p, and Outputs are 1080i
720p, Inputs can be 720p, and Outputs are 720p

Preview Out also matches the Format setting
---
AUDIO SETUP
---
When you first turn on the V-1HD, it is set to mix all RCA and HDMI input audio at their current levels and output the mix via the HDMI outputs. You can adjust the levels in the Audio menu, RCS Software, or iOS Remote App.
---
CONNECTING LAPTOPS
---
On your PC or Mac, there are two ways to set up the computer's HDMI output to your V-1HD: Duplicate and Extend.
Duplicate creates a copy of your Desktop, including your Taskbar or Dock. Your mouse will appear on both screens.
Extend creates a clean desktop, and you can move your mouse between the two.
These guides walk you through general setup in Windows 10 and MacOS:
If you use software that generates visuals or plays media files, there may be additional screen output settings in the software:
---
ADDING LIVE GRAPHICS
---
You can overlay graphics like lower thirds and logos using the EFFECTS knobs, which use a keyer to remove a solid color from the overlay source.

---
STREAMING VIDEO
---
The USB Type B port on the back of the V-1HD can:
Connect to the RCS software
Connect to the iPad Remote app
Backup and restore settings via RCS software
Update the firmware via RCS software
Note that it does not output audio and video for streaming or recording, you will need an HDMI to USB Capture Device, like our UVC-01: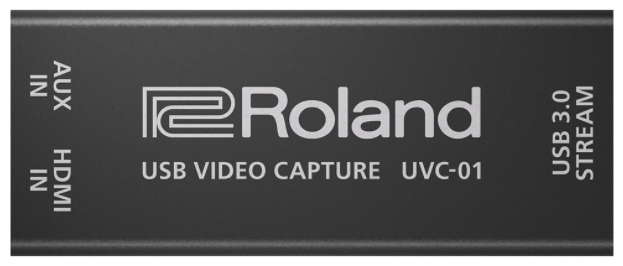 This device is not the same as a USB to HDMI display adapter,
those are used to add an additional display to a computer
The UVC-01 gives you free access to Roland's AeroCaster Switcher for iPad. With this app, you can wirelessly connect and switch up to five sources (phone cameras, tablet cameras, laptop webcams, and laptop browser tabs), then output a combined program feed to an HDMI input on the V-1HD.
AeroCaster Switcher Product Page
Streaming Software Guides
Windows
Windows and Mac
Some guides are written for the VR series models, but a V-1HD outputting to a UVC-01 is similar to the USB Streaming output on the VR series.
---
RECORDING VIDEO
---
The V-1HD does not output audio and video for recording, you will need an HDMI to USB Capture Device, like our UVC-01.
You can record the UVC-01's USB streaming output with software that can record USB video.
Here are some software guides:
Windows
Windows and Mac
---
SOFTWARE CONTROL
---
There are three versions of the control software: Windows, MacOS (Intel & M1), and iPad.
Update your firmware to the latest version for best compatibility.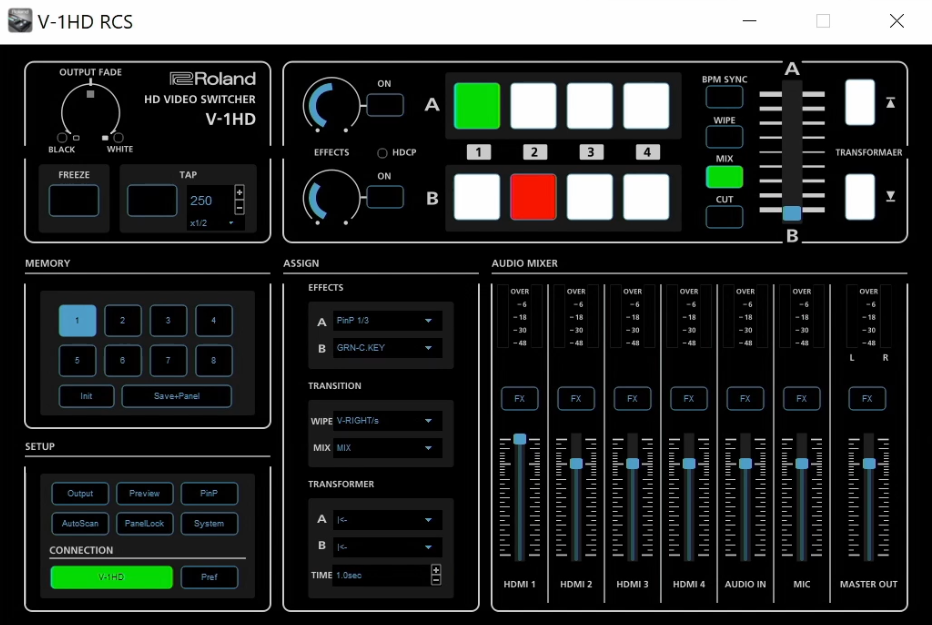 To connect the V-1HD to the Windows or MacOS RCS software, you need the following:
USB 2.0 (Type A to B) cable

Similar to a USB printer cable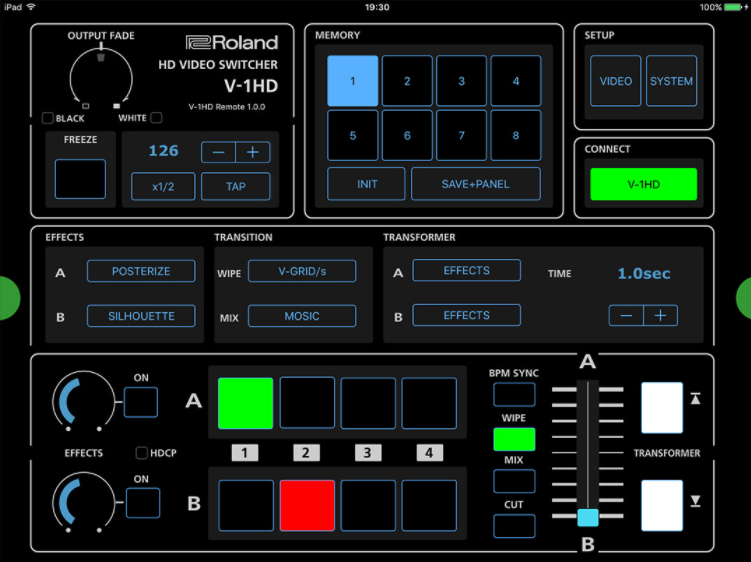 To connect the V-1HD to the iPad Remote App, you need the following:
Lightning iPads
USB 2.0 (Type A to B) cable

16.5 ft. max length
Similar to a USB printer cable

Lightning to USB Camera Adapter

Apple MK0W2AM/A or MD821AM/A
USB-C iPads
USB 2.0 (Type B to C) cable

16.5 ft. max length
Similar to a USB printer cable

No Apple adapter required
iPad Models with USB-C
Click here to find your iPad model
iPad10th gen or later
iPad Mini 6th gen or later
iPad Air 4th gen or later
iPad Pro 11" 1st gen or later
iPad Pro 12.9" 3rd gen or later
---
PROTECTING SETTINGS
---
There are multiple ways to protect your settings on the V-1HD:
Store settings as a Preset Memory
Backup all settings using the V-1HD RCS software
Enable Panel Lock for some of the physical controls
---
HDCP TROUBLESHOOTING
---
The V-1HD supports many video source devices, but DVD/Blu-Ray players and Streaming Boxes require HDCP (High-bandwidth Digital Content Protection) to be turned on in the system settings. Once enabled, the signal will pass through.
But there are exceptions. If the V-1HD's HDMI output is connected to a recording or streaming device, or an HDMI to SDI or HDMI to Analog converter, that device will block the DVD/Blu-Ray player's HDCP copy-protected signal passing through the switcher.
So long as the only destination devices are displays or projectors, then you should not have any issues with enabling HDCP.
HDMI CAT Extenders: These are a pair of converters that extend an HDMI signal by converting it to Ethernet and back to HDMI again. These extenders may add HDCP to the signal, even if the source is a camera. Please check with the extender's manufacturer regarding compatibility. SDI converters or HDBaseT extenders are recommended as they do not add or require HDCP.
Game Consoles: These may have HDCP enabled by default for all games and content, or just for streaming services and disc playback. If you want to stream or record the Roland's output, then HDCP needs to be disabled on both the game console and the Roland. Consoles either do this automatically or have a menu setting. Check your game console's manual for more information.
---
PRODUCT IMAGES
---
Click each image for a larger version:

---
ADDITIONAL LINKS
---
V-1HD Manuals

Owner's Manual, Reference Manual, RCS Manual, Remote App Manual, etc.
---