Currently, you must open Reason 12.5 or later in Rosetta mode for the some Roland Cloud VST3 plugins to show up on Apple Silicon systems.
Important: The steps below are not needed if the plug-ins are already updated for Apple Silicon. When in doubt, check the latest Apple Silicon and macOS compatibility information provided by each plug-in's developer. *
To use VST2/VST3 plug-ins not yet updated/compiled for Silicon, you can force Reason 12.5 to run as an Intel application via Rosetta 2, as explained below.
How to open Reason 12.5 or later using Rosetta:
Find and select the Reason 12 icon in your Applications folder.
Press Command – I, or right-click / access the File menu, and select "Get Info."
In the Info window that opens, check the box for "Open using Rosetta."
Close the Info window and re-launch Live.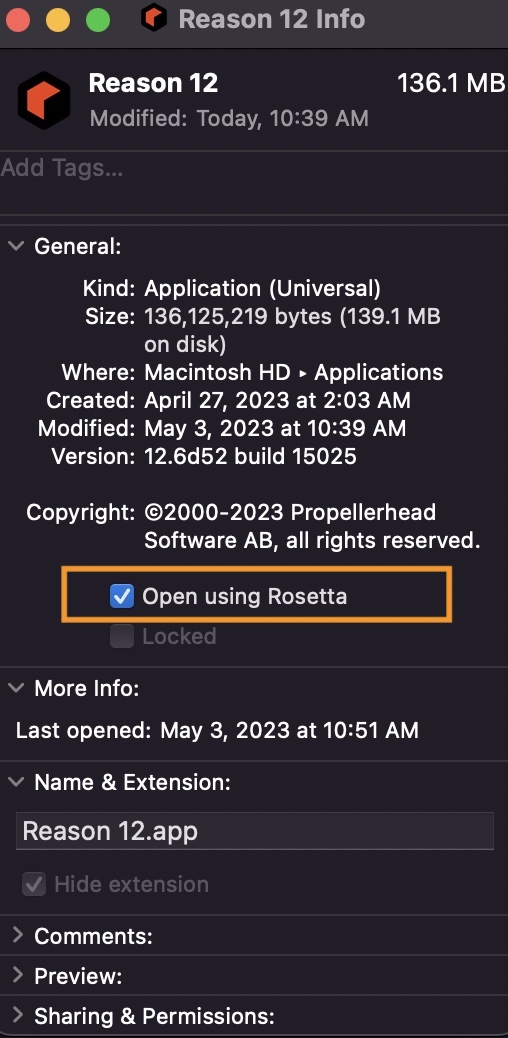 5. Open Reason 12.5 or later and all of the installed Roland Cloud VST3 plugins will be ready to use.
​​*NOTE: As of this writing (May 3, 2023), the following VST3 plugins are Silicon compatible and do not require Reason 12.5 or later to be opened using Rosetta.
LEGENDARY
JD-800 V 1.0.2
JUNO-106 V.2
JUPITER-4 V.2
JUPITER-8 V.2
ZENOLOGY PRO V.2
APPS:
SP-404MK2
FX:
ZENOLOGY FX